Located in Vermont: 802-229-1112


Airbrush Tanning is SWEEPING the Country......Call me today and make an appointment for your gorgeous new tan!
20+ years of spray tanning experience....
| | |
| --- | --- |
| Upper Body - (Waist up) | $20.00 |
| Lower Body - (Waist down) | $20.00 |
| Whole body | $40.00 |
| Just face, neck and shoulders | $10.00 |
| PLEASE NOTE: | No Spray Tans For Pregnant women |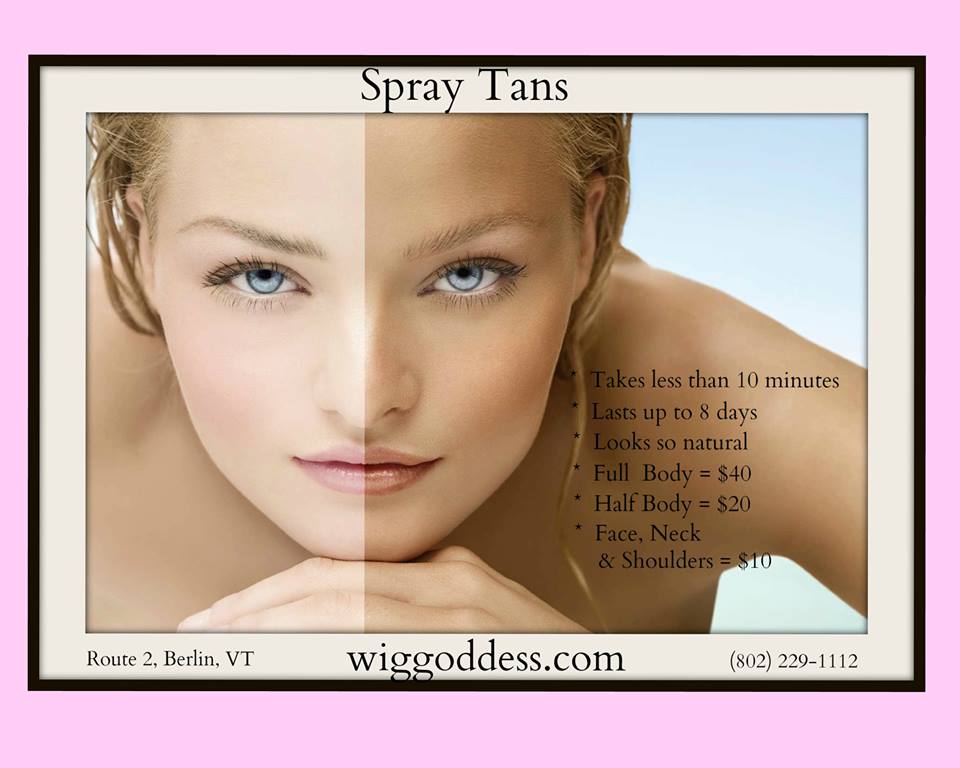 It takes about 10 minutes total. Our solution smells FRESH and you are instantly bronzed. The tan lasts a week. It's a realistic NOT ORANGE .... and I can adjust the level of color you would like.
It is best to tan one or two days prior to a special event.
Warning: The day you do the tan - you MAY look blotchy as it's setting. Make the appointment when you don't have to be anywhere. Every day activities are fine...just NO sweating or getting near water for 10 hours. After 10 hours you can shower and the tan is PERFECT for a week and just fades away...no blotchy places. No restrictions after the shower.
Preparing for your Spray Tan: The morning of the appointment Exfoliate* and do all your shaving...take a shower with a mild soap. No lotions, makeup, or perfume on the skin at all please....this will act as a barrier and the tan won't come out right. Please also bring baggy clothing to wear home (Large Elastic waist shorts/pants with an oversized t-shirt). Tanning solution will come out of clothing.
After Tanning Care
NOTE: Now that you look goofy…hang in there. Expect to look discolored and a little patchy…some places may look darker than others. The cosmetic guide tends to break up after an hour or two. Tomorrow morning after your shower, your tan will look amazing.
*Take it easy
* No Sweating
* Don't pick at any spots or wash any discolorations, they will all even out after the shower
* Don't get near water until the next morning. Use a straw to drink.
* Shower first thing in the a.m. with a mild soap.
* Don't use scrubs or washcloths until the tan has faded
* After shower…use lots of lotion or oil to moisturize the skin
* Your tan will last a week
You will absolutely Love the result!
*Fabulous tip: If you exfoliate before you shave...You are much less likely to get shaving bumps

Located in Vermont: 802-229-1112